Events
THE GROOVE GARDEN 15th SEPTEMBER
13 Blewitt Springs Road, McLaren Flat
Time: Open Mic from 1pm. Band on 4-6pm
Food by: The Groove Garden
Wines by: Bent Creek Vineyards
Entertainment by: Chris Finnen Electric Band
Tickets: $5 Entry Fee
THE GROOVE GARDEN 1st SEPTEMBER
13 Blewitt Springs Road, McLaren Flat
Time: Open Mic from 1pm. Band on 4-6pm
Food by: The Groove Garden
Wines by: Bent Creek Vineyards
Entertainment by: Blackwood Slim & The Fat Cats
Tickets: $5 Entry Fee
---
Past Events
The Leukaemia Foundation – Long Table Lunch Saturday 10th June 2017 12pm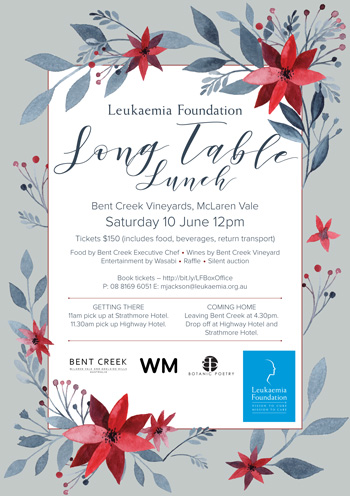 Tickets are $150 and even include food, beverages and bus transfer to and from the event!
Getting There:
11am pick up at Strathmore Hotel
11:30am pick up at Highway Hotel
Coming Home:
Leaving Bent Creek at 4:30pm
Drop off at Highway Hotel and Strathmore Hotel
Food by: Bent Creek Executive Chef Pepe Reyes
Wines by: Bent Creek Vineyards
Entertainment by: Wasabi
Tickets: $150 Secure your ticket here or contact Millie Looker: 08 8169 6051 mjackson@leukaemia.org.au
---
McLaren Vale Sea & Vines Festival 2017
Celebrating its 25th Anniversary in 2017, the McLaren Vale Sea & Vines Festival revels in the culinary and winemaking traditions of our world class food and wine destination and we're excited to be a part of this years festival.
Head to the McLaren Vale Sea & Vines 2017
official website
for more info.
Sunday Experience 11th June 2017
Session 1: 9am – 11.15am SOLD OUT
Session 2: 11.30am – 2.15pm SOLD OUT
Session 3: 2.30pm – 5pm SOLD OUT
Monday Family Day 12th June 2017
Join us for a glass of our finest whilst enjoying the casual cuisine created by Exec. Chef Pepe Reyes savoury and sensuous. Catch up with the girls from ADELADY and share a bottle or two of our new ADELADY Sparkling whilst rocking on to award winning vibes by Ben Ford-Davies throughout the day. With Giant Jenga, Bocce and other activities for the big and little kids alike, its sure to be a feast for the sense at Bent Creek Vineyards!!